Sidekiq Pro reaches 1.0!
2013-05-07
I announced Sidekiq Pro seven months ago and since then I've released 15 versions with both minor bugfixes and major new features.
Today I decided to pull the trigger and call it 1.0! I've moved the Sidekiq Pro changelog to the sidekiq repo for better visibility for all Sidekiq users. Watsi, Litmus, Customer.io and Travis-CI are just a few of the companies that have upgraded to Pro.
To celebrate the 1.0 release, I'm giving away one free license to an existing Sidekiq user! All you have to do is tweet an image of your current dashboard "Processed" count and say you want Sidekiq Pro. Here's The Clymb's dashboard: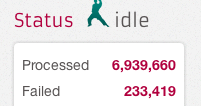 Example: ".@AcmeCorp wants Sidekiq Pro! http://example.org/dashboard.png"
A few days from now, I'll collect all the tweets and draw one at random from a hat. Good luck!